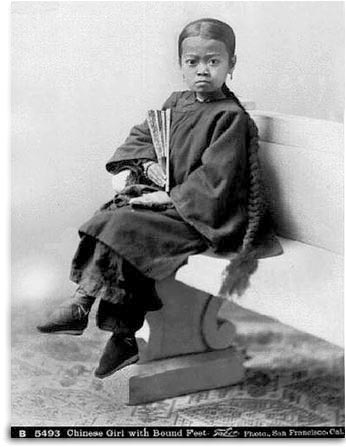 This weekend we visited a favorite Chicago landmark, the venerable Field Museum of Natural History (more about that interesting visit, perhaps, on another day). Part of the fun is looking through the ever-vaster gift shops on the main floor across from Sue the Tyrannosaurus. Most of the stuff in the gift shops is just that: stuff, albeit nice stuff, from around the world. The inflated prices suggest that buying goodies from the Museum helps its bottom line, which is all to the good. However, one item in a special locked case really caught my eye. It was an antique Chinese lotus shoe. For those not familiar with lotus shoes, please take a look at this 1995 article by James A. Crites. In spite of long having known much of this background, I have most of my life just gone along for the ride when confronted with anything having to do with foot-binding (including on two extended trips to the Peoples Republic of China in the early 1980's, where it was not much flaunted, as the modern regime dealt with things it found denigrating to its image). But for whatever reason, this morning I was moved to address the following to the museum gift shop manager:
"I am writing to you as manager of the Field Museum Gift Shop regarding objects offered for sale in the store that deserve a second thought.
When in the shop this Saturday I saw for sale in a special locked case "lotus shoes" made for Chinese women with feet deformed by the traditional practice of binding. Although they are indeed objects of intrinsic beauty and craftsmanship, I would suggest that in the 21st century they represent more strongly a thousand years of cruelty (in the extreme) to children and institutionalized abuse of women, and therefore are inappropriate to include among the Field Museum's merchandise offerings.
I found this article on the subject to be thorough and well-written. If you are not already familiar with the process required to produce "lotus feet" you will learn a lot about it as well as the context in which it took place. I do hope it will inspire you to re-consider selling the beautiful little symbols of such a terrible practice."

Then I decided to look into the market for "lotus shoes" and found that it thrives. I too can appreciate the stunning craftsmanship that went into making these little treasures. But when I picture a 7 year old girl having her feet intentionally broken (without anesthesia, of course) and tightly bound for years (that is, if she survived the metabolic trauma of multiple broken bones and the ensuing life-threatening infections and necrosis) I think it might be time to re-examine the propriety of marketing reminder of such practices for profit.
The Field Museum's price tag for the comparatively simply fashioned lotus shoe was $400.

Photo linked from the Virtual Museum of the City of San Francisco, thank you.